Links & Resources
Where to see and learn more about Anahareo, Grey Owl, and more!
In Person
If you're looking to visit places where you can learn more about the Grey Owl and Anahareo story, you may wish to start with some of the ones listed here.
If you're looking to visit places where Grey Owl and Anahareo have been, these are available on our map.
Algonquin Way Cultural Centre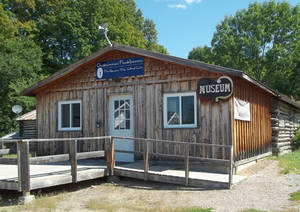 Golden Lake, Ontario, Canada. The Algonquin Way Cultural Centre, or Omàmiwininì Pimàdjwowin, is dedicated to revitalizing, reintegrating, protecting, and enhancing the cultural traditions, customs, practices, heritage, language, and arts of the Algonquin nation, to which Anahareo's mother belonged. The Cultural Centre's collection consists of Algonquin arts, crafts, canoes, medicines, regalia, and military achievements. The Cultural Centre also maintains a comprehensive website.
Glenbow Museum and Archives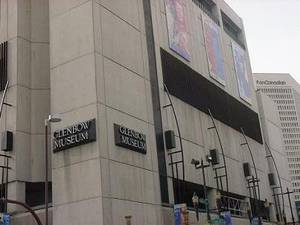 Calgary, Alberta, Canada. The Glenbow Museum and Archives is home to a collection of correspondence, sketches, photographs and other records relating to Anahareo's life with Grey Owl and her later activities in Western Canada, much of which was compiled by Anahareo's daughters Dawn and Katherine. Although some of the collection has been digitized and can be viewed online, much of it remains available in paper format only. The Glenbow Museum also holds archive materials relating to Grey Owl, donated by Winnipeg musician Tom Watrous and Grey Owl biographer Donald B. Smith, which can be accessed in person only.
Hastings Museum and Art Gallery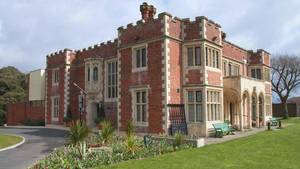 Hastings, East Sussex, United Kingdom. The Hastings Museum & Art Gallery -- located in Grey Owl's home town -- hosts a permanent display on Grey Owl, including a replica of his log cabin at Lake Ajawaan; props, costumes, and models from the 1999 Richard Attenborough film, "Grey Owl;" and the archives of the Grey Owl Society. Artifacts collected by Edward "Ted" Blackmore, who helped fashion the war bonnet Grey Owl wore on his British tours, and Dr. Colin Taylor of the Grey Owl Society can also now by found at the Hastings Museum.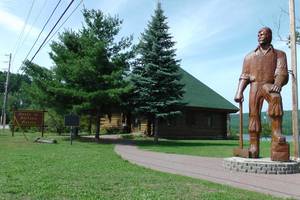 Mattawa, Ontario, Canada. The Mattawa District Museum is a small community museum in Anahareo's hometown. Located in a red pine log building in Explorers Point Park, the museum focuses on the history of the Mattawa area and features a permanent exhibit on one of their most famous former residents, Anahareo. On June 17, 2006 -- the 100th anniversary of Anahareo's birth -- the Mattawa Museum hosted a celebration and commemoration of her extraordinary life. Additional details about the celebration can be found in Grey Owl Society Bulletin No. 25.