Her Story
About the free-spirited woman who transformed a trapper into a conservationist.
Anahareo & Grey Owl (1925 - 1936)
As the saying goes, "Behind every great man, there's a great woman." Although this certainly holds true in the case of Anahareo and Grey Owl, in fairness, it only captures half the truth. Just as Grey Owl owed much of his fame to Anahareo's influence, so did Anahareo owe much of what she became to Grey Owl. This page tells that story.
• Ancestry • Her Early Years • Anahareo & Grey Owl • Finding Her Own Way
• Her Later Years • Anahareo Remembered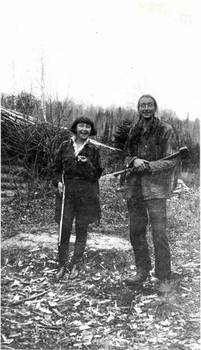 When Grey Owl and Anahareo met, Anahareo was a town girl of nineteen with a head full of romance and adventure but no real bush experience. Her fascination with him was such that, upon Grey Owl's invitation to visit him on his trapping grounds, she was inspired to walk fourteen miles (22 kilometres) to ask her father for permission. She may soon have regretted this impulse when she realized, too late, that Grey Owl's definition of "not far" represented forty miles (64 kilometres) of snowshoeing to a snowed in tent!
Despite this inauspicious beginning and several more hard lessons about the realities of bush life, Anahareo stubbornly persisted and eventually convinced Grey Owl to allow her to accompany him on an overnight trip to check his traplines. This outing not only taught Anahareo the meaning of "sleeping out" -- setting up camp in a pit dug into the snow -- but also introduced her to the brutality of trapping when Grey Owl was forced to kill a trapped marten with the handle of his axe. Determined to earn her keep and not sit idle, Anahareo learned to trap despite her revulsion, but ultimately gave it up in the Spring of 1928. As she wrote:
"The fact that I hated to kill and my ever-present remorse over this now will never right the wrong . I can still hear the screams of the suffering animals -- the mink, marten, fisher, lynx. I still see the poisoned foxes and wolves lying on the frozen lakes, and the drowned beaver and otter at the bottom of the lakes and streams."
Later that summer, Anahareo and Grey Owl found two beaver kittens who had been orphaned by one of their traps. Although they agreed on the need to bring them home with them, they disagreed -- violently -- on what was to be the beavers' fate: Anahareo wanted to keep them as pets, and Grey Owl wanted to sell them, as live beaver would fetch a good price. Arguably, it wasn't only Anahareo, but also the beaver themselves, who eventually won him over with their lovable antics. Anahareo describes the turning point as such:
"[Archie] had no sooner tucked himself [into bed] than one of the beaver went over and propped himself against Archie's side and continued with his combing. Archie gave me a startled look and then grinned. When the little fellow had finished his combing, he ambled close to Archie's face, sniffing and poking about. He nibbled a little at his eyebrows, and then, with a great sigh, he settled himself on Archie's chest and fell asleep.
'I'll be darned,' said Archie, amazed."
It wasn't long before Grey Owl, too, decided to give up trapping and, instead, to turn his attention to recolonizing the country with beaver, which had by now been trapped nearly to extinction. Of course, there was still the question of how they would make a living and, with Anahareo's encouragement, Grey Owl began to write.
For her part, Anahareo came to rely on the bush skills she learned from Grey Owl to strike out on her own as a prospector and occasional guide. Although Anahareo was not the only woman in her time who tried her hand at prospecting, she was likely the first to travel solo so extensively through the wilderness. During this time, Anahareo unexpectedly became pregnant and her daughter with Grey Owl, Shirley Dawn, was born in 1932.
Ironically, the very independence that Grey Owl's lessons facilitated was one of the things that ended up driving them apart: Grey Owl spent more and more time writing, and, feeling stifled, Anahareo spent more and more time away. Although the two parted for the last time in 1936 and Grey Owl remarried several months later, a strong bond of affection remained between them until the end.
NEXT: Finding Her Own Way